Samanta Duggal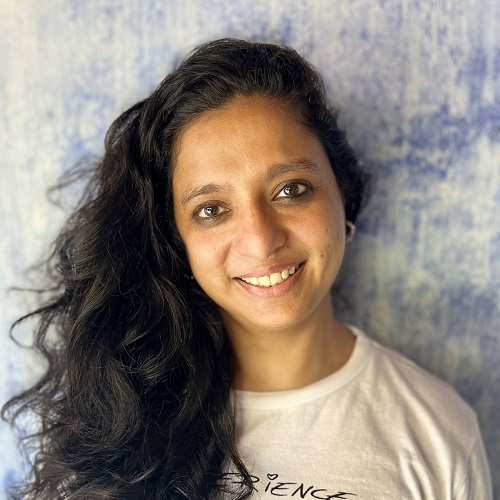 Samanta is one of Mumbai's leading yoga teachers. She unites expertise in Yoga, Thai Massage and Sound Healing to help you rediscover your storehouse of energy. Her Integrated Teaching Method offers benefits of Sivananda, Iyengar and Vinyasa yoga styles, deep relaxation and detox therapies
Samanta has been dedicated to mind-body health for over 20 years. With a lifetime spent practicing Yoga, Jazz Technique and Bharatnatyam, she is able to combine unique perspectives about wellbeing, healing and physiology.
Samanta's work centers on Hatha Yoga, Vinyasa Yoga, Ayurvedic and Thai Bodywork Therapies, Sound Healing with Tibetan Singing Bowls and Handpan and Vedic Chanting. The Yoga she teaches centers around aspects of  Movement therapy coupled with the more traditional and esoteric practices of Chakras, Mudras, Bandhas, Mantra and Yoga Philosophy.
In July 2008, she partnered with Shaleen Parekh to open India's first boutique yoga studio, Yoga Sutra. Samanta started out in fitness as a teenager, and her journey into the body traversed 15 years as an instructor and lead performer with noted choreographer Shiamak Davar. She then transitioned into practicing and teaching Yoga in the year 2000.
Over the last thirteen years she has explored and mastered several healing therapies for the mind and body. She is an Advanced Teacher of the Sivananda Yoga tradition and is also certified in Yoga Therapy, Yoga for children, as well as Pranayama and Dhyan (Breathwork and Meditation). She has designed and teaches corporate yoga and fitness programs, collective and private classes and international retreats. For more information see www.samantaduggal.com.
Each class at Ulpotha will leave you feeling joyous and peaceful. Find inner strength in mind and body like never before.
"Samanta is so in touch with the energy of the class that she knows exactly what your body and mind need from the practice."
Mirjam Gelink – Netherlands
"Back home, I still join her weekly online sessions – need I say more?"
Anne Hermening – Germany