Rob Hess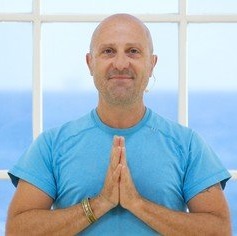 Rob Hess is one of California's most experienced and fun teachers of Prana Flow – a delicious blend of gentle flowing but deep asanas, incorporating restorative, therapeutic, meditative and spiritual practices centered around the heart.
Rob's Teaching has evolved and has come a long way from where he began practicing in Cleveland Ohio to his days teaching in Washington DC to now living in Ventura and owning a studio (Jai Rhythm) with his business partner Colin Brightfield. What drew him to the practice of yoga was the physical part but after years of study and devotion it's the spiritual part of the practice that feeds his soul. And through this amazing journey he found his home in the Prana Flow community with his teacher Shiva Rea.
While Rob's style is ever evolving, Rob's teaching is rooted in Prana Flow: a synthesis-oriented approach to living the art of yoga created by his primary teacher, Shiva Rea. Born from the traditions of classical yoga, Bhakti, Tantra and Ayurveda, Prana Flow integrates various forms of spiritual embodiment practice to reveal yoga as a flow of unity consciousness.
Rob has traveled all over assisting Shiva's workshops and teacher trainings. And through her guidance he loves to share with others all that he has come to know and hold dear to his heart. Rob's style of teaching is fun, challenging, and lighthearted as he tries not to take life too seriously. He encourages students to enjoy the journey rather than fighting to get to the destination.
Rob has been leading workshops and trainings all over the U.S. and loves how the power of yoga is universal, that no matter where he goes you can feel an amazing sense of community and love.
Rob has found that through his own sadhana, yoga can free the body and mind from the self limitations we impose on ourselves and that through practice we are able to get in touch with the very essence of who we are. His goal as a teacher is to help students uncover their own personal truth and live a life that is empowered.
People will experience a fun and playful journey to the self.  His teachings are open to all levels.  Whether you come to Ulpotha to relax or you come to challenge your practice, Rob will be offering something for everyone.