Wade Gotwals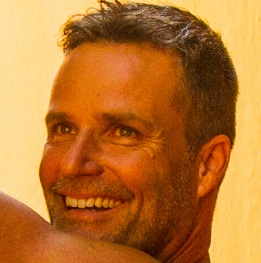 Wade found yoga in the late 90's during his travels and since then has made it his passion to discover alternative techniques for furthering growth of mind and spirit and for healing the body. He's taught in Asia, Greece, South America and the U.S. and is always excited about sharing new discoveries.
Wade teaches a unique fusion of styles derived from his travels and from the inspirations of teachers like Dharma Mittra and Rusty Wells. His certifications in Ashtanga/Vinyasa, Thai and Intuitive Massage, and Touch for Health added with his meditation and Advaita studies in India with Ramesh Balsekar have given him many gifts to be thankful for and share with others…
His teaching style is structured but at the same time very playful and always gives options of openness, depth and strength so that everyone will be challenged and can share their energy. The Advaitic principles of 'oneness and non separation' are the dharmic principles to his teachings.
On his retreats you can expect a daily creative vinyasa flow based practice, with individual attention to challenging poses deconstructed and a daily restorative practice infused with meditation, dharma and thai yoga. He strives to find interesting ways to keep others inspired and connected and receiving inspiration from others is what keeps his love for yoga alive. www.wadeyoga.com